Are you looking for a simple easy to adapt event management process that can be used for any size events?
Our event management platform has something to help you at each stage of your event from marketing your events and hosting online registration, to easing the check-in process, engaging your attendees onsite, and ultimately providing you with post-event analytics to measure your inevitable success.
Event Management Automation Overview
Set up & Modify Registrations
Set up an event to handle online registration for your attendees and exhibitors.
Manage Services
Set up value added services for your attendees and exhibitors for your event.
Advance Option
Customize Email template, Manage Promo Code, Be-Social feature, Customize badge Categories, Import prospective attendees.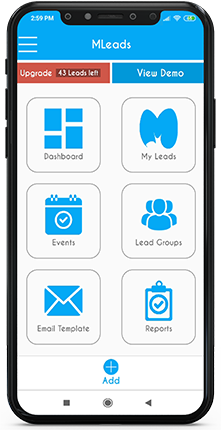 Manage Tickets
Create custom Ticket types and customize tickets by name, price and field for free or paid event.
Manage Session
Set up sessions allocate date, time and room number.
Event Help
Managing Walk-in registration, Print Badges, view & export registered attendees and review collection.
Online Event Setup
Manage Tickets
Manage Services
Manage Sessions
Event Actions
Event Help
Set up – Online Event Registration
Event page creation with MLeads is a simple and quick process, Add event Information
✔ Fill event details

✔ Event Start and End dates

✔ Last date for registration

✔ Available for registration by

✔ Upload Event Agendas

✔ Logo

✔ Event information

✔ Organizer Information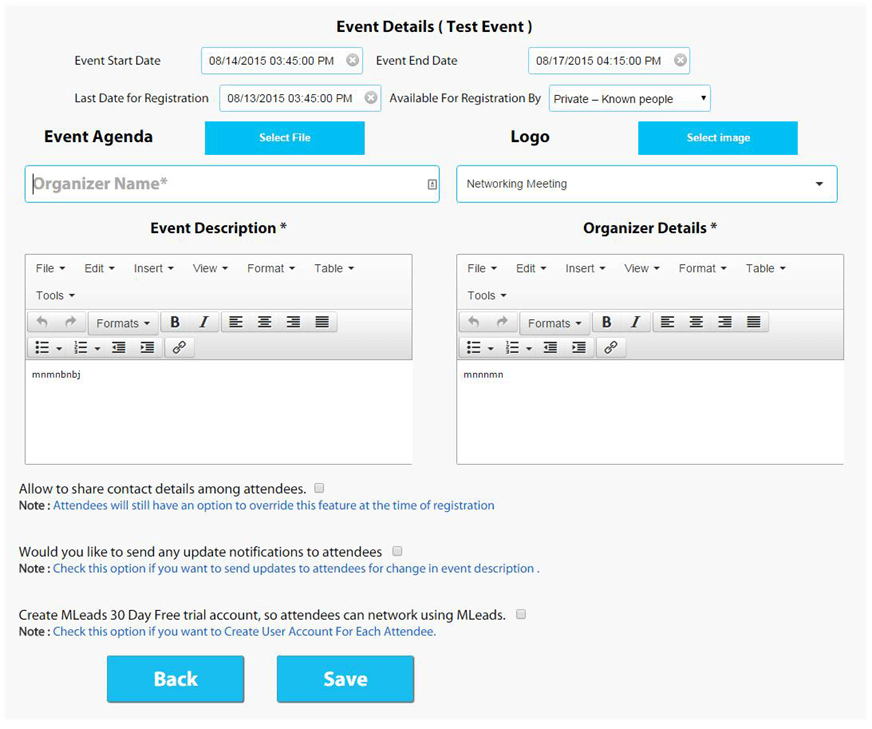 Manage Tickets
Now is your chance to make your events more affordable and profitable. Whether you are a non-profit organization or a large enterprise, with Event Smart you can sell an unlimited number of tickets without added cost to you or your attendees.
✔ Create multiple categories for Tickets like Attendees, VIP, and Exhibitor

✔ Create your Free or Paid Ticket for Attendees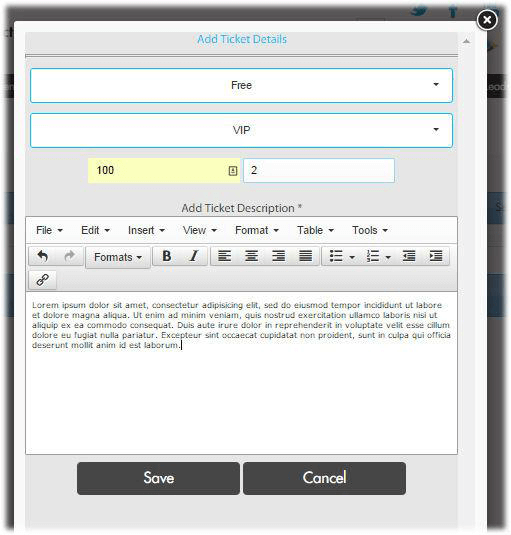 Manage Services
MLeads includes Manage Services feature according to Ticket Category and also manage Number of Tickets, Attendees can buy selected services for event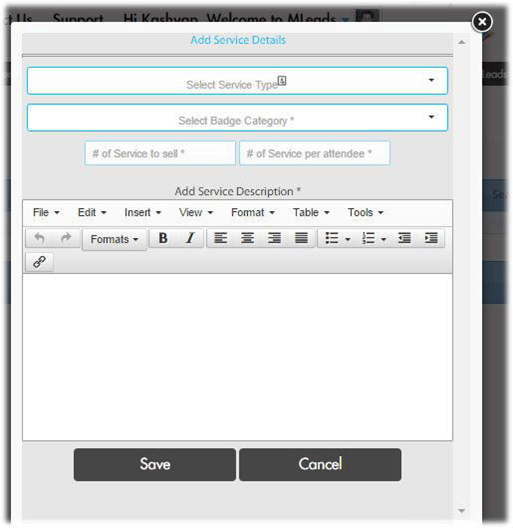 Manage Sessions
Session Management Made Easy, Your attendees expect easy access to great content. MLeads make it easy organize and schedule your sessions.
✔ Add Sessions
✔ Manage Speakers
✔ Start Date Time
✔ End Date and Time
✔ Add Location, Room No
✔ Manage No. of Attendees to Allowed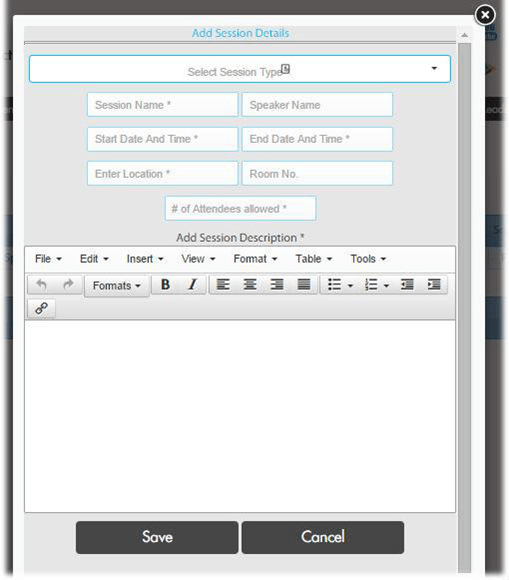 Event Actions
Set up value added event management process
✔ Manage Promo code

✔ Manage Payment Details

✔ Custom Registration filed

✔ Enable Be Social Feature

✔ Customize email Template

✔ Upload Event Sponsors

✔ Import Prospective Attendees

✔ Send Invite email to prospective attendees

✔ Customize badge category values

✔ Term and condition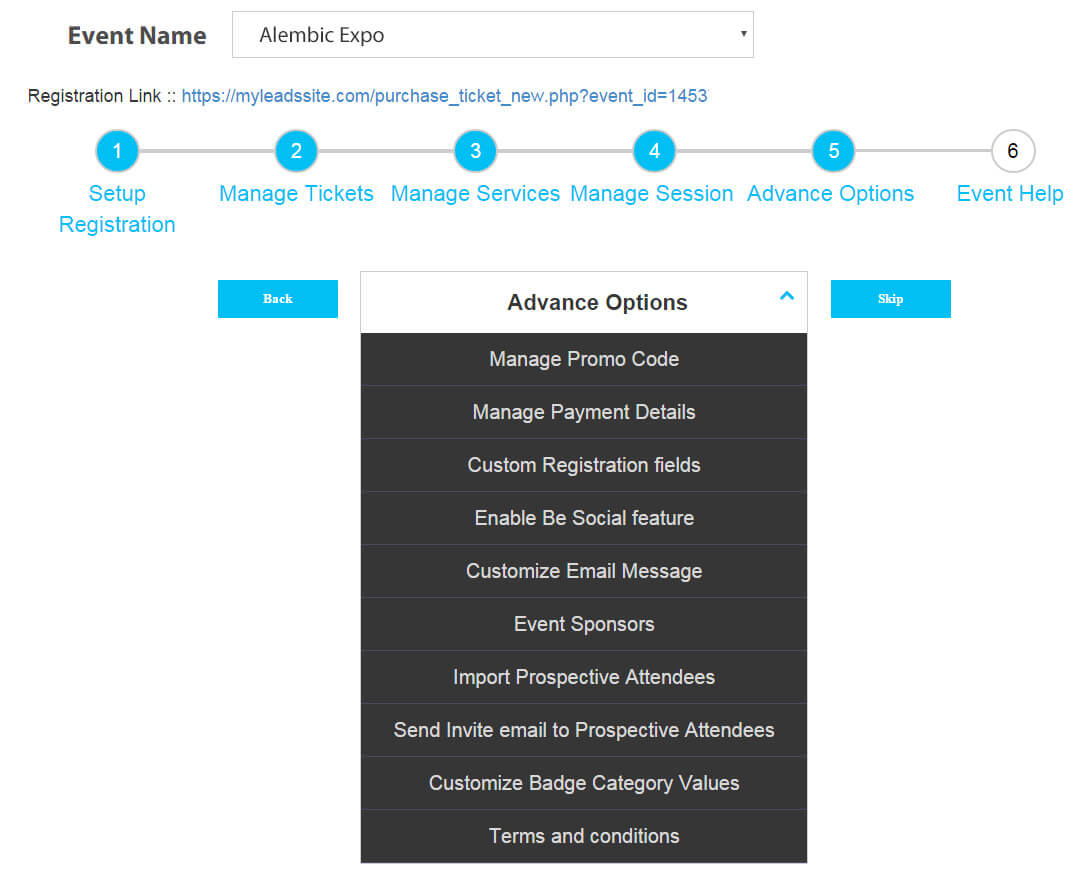 Event Help
Organizer can take action on real time
✔ View Registered Attendees

✔ Send Reminder mail to Registered Attendees

✔ Event Organizer can send online event surveys

✔ Add Social Media links for your Event

✔ Select Attendees for design and print Badge

✔ View Event Collection

✔ Manage walk-in registration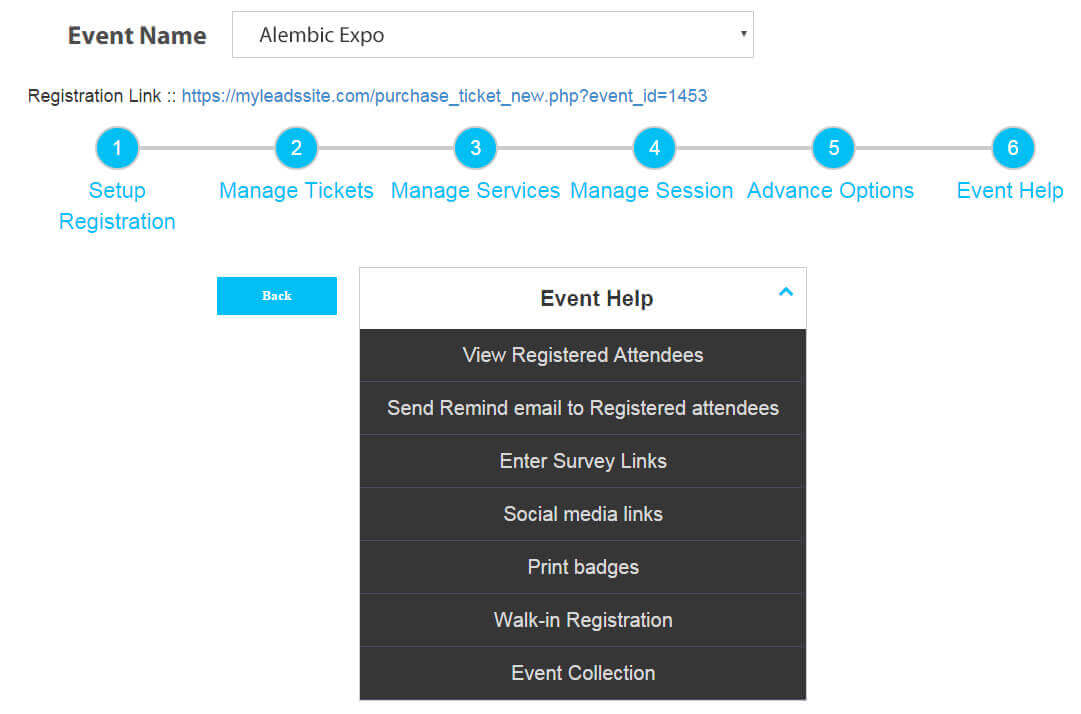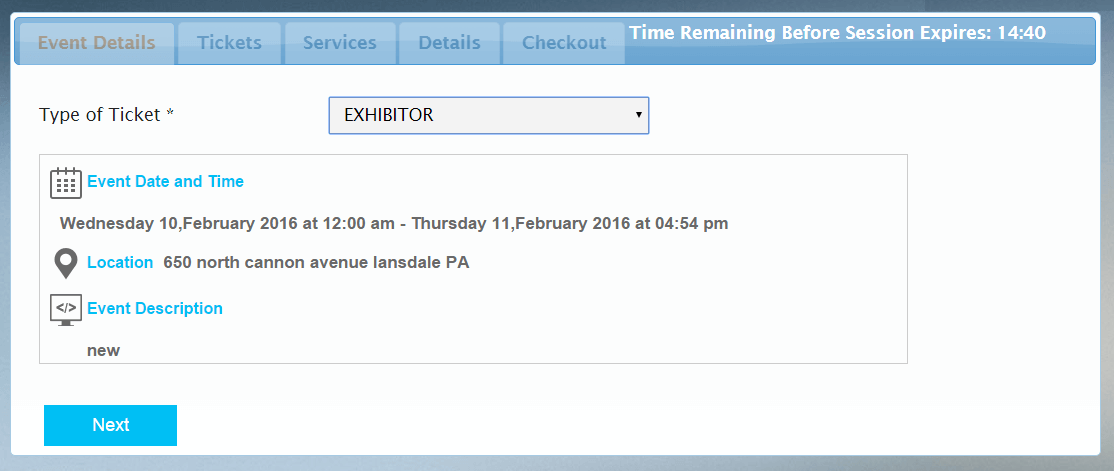 Use MLeads As an Event App For Event organizer
Create Task, Import Export Leads

Send reminder Email to attendees

Upload Event Agendas, Event Sponsors

Badge Entry Check at entry point for attendees

Design and Print QR Badges

Transfer Event Leads

Ability to see place nearby

Ability to take the Survey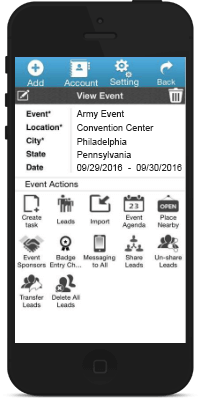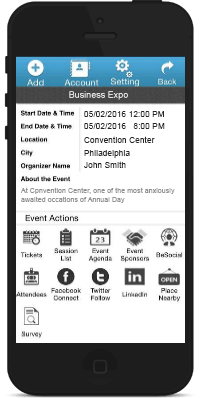 Use MLeads As an Event App For Attendees
No Need to carry physical Copy of Tickets

Attendee can view Event Agendas, Session, sponsors list.

Connect with Facebook, Twitter, LinkedIn get latest update on Event

BeSocial – Interactive chats Messaging attendees
MLeads can be used to organize the following type of events:
Business-to-Business Exhibitions

Board Meetings

Consumer-to-Business Exhibitions

Committee Meetings

Hosted Buyer Events
Propriety/Corporate Exhibitions

Sales or Incentive Meetings

Seminars

Tradeshows

Conferences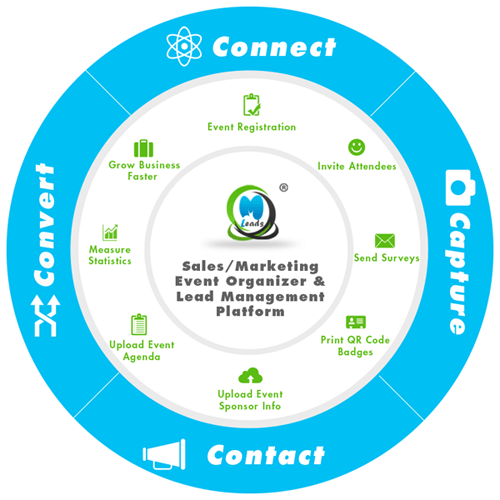 Use our online event-management module to create a custom event to handle an online registration.

Manage event registration and processing payment for the event.

Quickly register attendees at the event using walk-in registration functionality.

BeSocial – Interactive chats Messaging attendees

On-Site badge entry check

Use your mobile device (iOS or Android) to check attendees at the door

Event Payment Processing

Enjoy fast and secure event payment processed online and delivered directly to your PayPal account.

Event Reporting

View event specific reports and give value-add to sponsors

Event Marketing

Personalize; send email invitations, surveys, reminders and other attendee communications.

Event Sponsors

Upload event sponsors information and logos for attendees to view before/during and after the event. Give value-add to event sponsors

Security and Support

Protect your data. MLeads hosts all user's data in a top-tier, data center Support – MLeads Support team is available by phone and email Professional Services: Leverage our professional services for custom needs such as analysis and database management