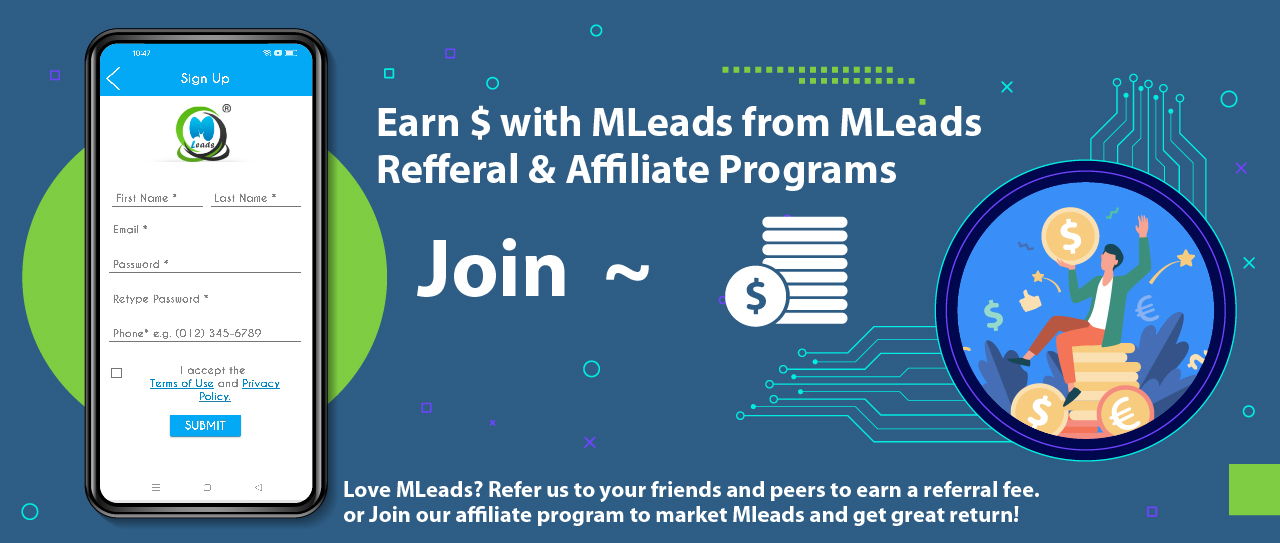 Become a paid subscription user of MLeads.
 Refer your friends and colleagues to MLeads from your account – if they become paid subscription users, you earn 10% of their subscription.
 You can reimburse your credit towards your subscription or a request for check payment.

 Anyone who is a paid subscription user of MLeads is considered as an affiliate member.
 By logging into your account settings gives you the option to get the affiliate code provided by us. You will then refer MLeads by displaying links to our site with the affiliate logo on your website to your visitors.
 When we receive visitors through your affiliate-tagged links, we'll associate that visitor with your affiliate account. If they then order a paid subscriber account (either on that visit, or on a subsequent one), you'll receive a 30% commission on their account!
 You can reimburse your credit towards your subscription or a check payment.
Please  Sign Up here for Affiliate Program.

 When someone you refer to us orders an account, you'll earn 10% of MLeads monthly subscription not only on the initial sale, but also on any recurring subscription payments they make.
 You refer John to us, and he signs up at $9.99 per month
Each month John uses MLeads, you'll earn $0.99. After a year, you've made $4.7. After 2 years, $XXX…. And so on as long as John continues to use his account.
And that's just with one referral!
 The longer your referrals use their accounts, the more money you make.
Become an MLeads Affiliate Today

 Referring MLeads, a comprehensive platform to manage leads and events can be a powerful income flow for you.
 Set up your free affiliate membership and start referring businesses and earning commissions!